This is one of those recipes that I was excited to cook all week.  There is only one thing I would change about it – MAKE MORE OF IT!!  I cooked 5 fillets, 1 for each of us each night but we could have eaten 2 easily.  Next time I'm going to double it so we have more to eat.  Also, I ran out of fresh Parmesan cheese so I used the grated Kraft stuff.  It was still super yummy but I look forward to trying to fresh cheese next time.  Recipe from the cookbook "Family and Friends Favorite Recipes" by Margaret and Branson Gayler.
Ingredients:
-1 pounds tilapia fillets (again, I did 1 for each person per night but you can double the recipe and the crab for 2/person if you prefer)
-1 (6 oz) can crabmeat, drained, flaked and cartilage removed OR 1 cup imitation crabmeat, chopped
-1/2 cup grated Parmesan cheese
-1/2 cup mayonnaise
-1 tsp lemon juice
-Paprika, optional
Directions:
1.  Place fillets in a greased 13x9" baking dish.  Bake, uncovered, at 350 degrees for 18 to 20 minutes or until fish flakes easily with a fork.  (I lightly seasoned the fish first with our favorite seasoning or you can use a little salt and pepper).
2.  Meanwhile, in a bowl combine the crab, Parmesan cheese, mayonnaise and lemon juice.
3.  Drain cooking juices from the baking dish and spoon crab mixture over the fillets.  Broil 5 inches from the heat for 5 minutes or until topping is lightly browned.  Sprinkle with paprika if desired.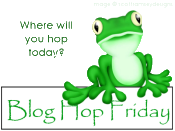 Foodie Friday
Friday Favorites