Okay, so I get why they call this "Italian" – there is Italian seasoning and tomato sauce in it.  But it really doesn't taste Italian.  It's more of a yummy slow cooker pot roast that you cut up and put back into a rich, creamy "gravy."  This will be great this fall/winter when the weather turns cold and gloomy.  I made this with mashed potatoes (use the pouch kind to cut time) and it was a winner all around!  I did not add the mushrooms because we don't like them but I bet that makes it even richer.  Recipe from Southern Living Magazine.  Made 9 servings for us (6 adult and 3 child).
Ingredients:
-1 (8 oz) package sliced fresh mushrooms
-1 large sweet onion (I just used a white onion), cut in half and sliced
-1 (3-4 lb) boneless chuck roast, trimmed
-1 tsp pepper
-2 Tbsp olive oil
-1 (1 oz) envelope dry onion soup mix
-1 (14 oz) can beef broth
-1 (8 oz) can tomato sauce
-3 Tbsp tomato paste
-1 tsp dried Italian seasoning
-2 Tbsp cornstarch
Directions:
1.  Place mushrooms and onion in a lightly greased 5 to 6 qt slow cooker.
2.  Sprinkle roast with pepper.  Cook roast in hot oil in a large skillet over medium-high heat 2 to 3 minutes on each side or until browned.
3.  Place roast on top of mushrooms and onion in slow cooker.  Sprinkle onion soup mix over roast; pour beef broth and tomato sauce over roast.  Cover and cook on LOW 8 to 10 hours or until meat shreds easily with a fork.
4.  Transfer roast to a cutting board; cut into large chunks, removing any large pieces of fat.  Keep roast warm.  (I was able to put my roast on a plate and pull apart with a fork since it was so tender.  Put the plate in the microwave or oven (turned off) to keep warm). 
5.  Skim fat from juices in slow cooker; stir in tomato paste and Italian seasoning.  Stir together cornstarch and 2 Tbsp water in a small bowl until smooth; add to juices in slow cooker, stirring until blended.  Increase slow cooker heat to HIGH.  Cover and cook 40 minutes or until mixture is thickened.  Stir in roast.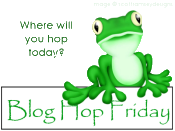 Foodie Friday
Friday Favorites