I LOVE any recipe that can be made in about 5 minutes.  Especially when it involves a Pillsbury product!  These little guys have been a staple at our house for years.  Now that we are growing, I double the recipe so that we can eat it for at least two nights.  Kids will love these too.  Recipe from Pillsbury.
Ingredients (I usually double but this is for one batch – makes about 4 pockets):
-1/2 pound ground beef
-1/3 cup barbecue sauce
-1/2 cup frozen hash brown potatoes (the cubed ones, not the shredded – can use the O'Brien ones too)
-1/4 cup shredded cheddar cheese
-1 can Pillsbury refrigerated crescent dinner rolls
Directions:
1.  Heat oven to 375 degrees.  In medium skillet, cook ground beef over medium-high heat, stirring frequently, until thoroughly cooked.  Drain.  Stir in barbecue sauce, potatoes and cheese.
2.  Separate dough into 4 rectangles on ungreased large cookie sheet.  Press perforations to seal.  Spoon 1/4 of beef mixture onto 1 side of each rectangle.  Fold dough over filling; press edges to seal.
Here's a quick picture of what this will look like before folding over and pressing edges:
3.  Bake 13 to 19 minutes or until turnovers are golden brown.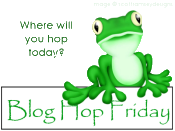 Foodie Friday
Friday Favorites