I enjoy a good Mac and Cheese recipe.  But I just can't justify it as the "main dish" for dinner without some substance to it.  Enter this yummy recipe that has endless variations.  This made a huge pan and lasted us 2 or 3 days.  I couldn't find the smoked Gouda cheese so I used all cheddar.  Recipe from Southern Living Magazine.
Ingredients:
-1 pound uncooked corkscrew pasta (I used rotini)
-2 Tbsp butter
-1/4 cup all purpose flour
-3 cups fat-free milk
-1 (12 oz) can fat-free evaporated milk
-1 cup shredded smoked Gouda Cheese
-1/2 cup shredded Cheddar cheese
-3 oz fat-free cream cheese, softened
-1/2 tsp salt
-1/4 tsp ground red pepper, divided (I used black pepper)
-1 (8 oz) package chopped smoked ham (couldn't find the little squares so I got shredded lunch meat ham and it worked really well)
-1 1/2 cups frozen broccoli florets, thawed and coarsely chopped
-1 1/4 cups cornflakes cereal, crushed (I used Rice Krispies because we had it on hand)
-1 Tbsp butter, melted
Directions:
1.  Preheat oven to 350 degrees.  Prepare pasta according to package directions.
2.  Meanwhile, melt 2 Tbsp butter in a Dutch oven (or large stockpot) over medium heat.  Gradually whisk in flour; cook, whisking constantly, 1 minute.  Gradually whisk in milk and evaporated milk until smooth; cook, whisking constantly, 8 to 10 minutes or until slightly thickened.  Whisk in Gouda cheese, next 3 ingredients, and 1/8 tsp ground pepper until smooth.  Remove from heat, and stir in ham, pasta, and broccoli.
3.  Pour pasta mixture into a 9x13 baking dish coated with cooking spray.  Stir together crushed cereal, 1 Tbsp melted butter, and remaining 1/8 tsp ground pepper; sprinkle over pasta mixture.
4.  Bake at 350 for 30 minutes or until golden and bubbly.  Let stand at least 5 minutes before serving.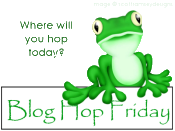 Foodie Friday
Friday Favorites