So, if you haven't seen the news all week, you may not know that we have been living in an Ice World here in Dallas.  We got 4" of sleet/snow on Tuesday morning, another 3" of snow on top of that last night and it won't go away until maybe tomorrow or Sunday.  Yippee!  We're getting some MAJOR cabin fever, but at least we have some warm things to eat.  Found this recipe in Family Circle Magazine and knew I had to try it.  If you are afraid to branch out with the white beans and kale, don't be – they don't have a ton of flavor in this so it's a good way to try something new.  It calls for 2 cans of beans but I'm only using 1 next time so there is more broth.
Ingredients:
-2 Tbsp olive oil
-1 onion, diced
-3 cloves garlic, chopped
-1 can (14.5oz) diced tomatoes with basil, garlic, and oregano
-2 cans (14.5oz each) chicken broth
-8 oz (2 cups) small pasta shells
-1 tsp Italian seasoning
-1 bunch fresh kale, tough stems discarded, cut into 1" pieces and washed
-2 cans (or just 1) small white beans, drained and rinsed
-1 Tbsp tomato paste
-1/2 tsp salt
-1/4 tsp pepper
-Grated Parmesan cheese for serving
Directions:
1.  Heat oil in a large pot over medium heat.  Add onion and cook 5 minutes.  Add garlic; cook 1 minute.
2.  Stir in tomatoes, broth and 3 cups water.  Bring to a simmer over high heat.  Add pasta and Italian seasoning.  Cook, stirring, 5 minutes.
3.  Stir in kale; cook 5 minutes more.  Reduce heat to medium and stir in beans, tomato paste, salt and pepper.  Heat through.
4.  Ladle into bowls; garnish with Parmesan.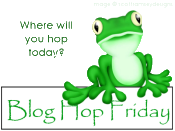 Foodie Friday
Friday Favorites