This recipe is described as "a warm sandwich you eat with a fork."  A great summer recipe and a really great way to use up those last tomatoes of the season.  I will say that you need to like sour cream and mayonnaise to enjoy this recipe.  From Betty Crocker.
Ingredients:
-1 lb ground beef
-1 tsp chili powder
-1 cup sour cream
-2/3 cup mayonnaise
-1 cup shredded cheese (I used a cheddar blend)
-2 Tbsp finely chopped onion
-2 cups Bisquick mix
-1/2 cup cold water
-2 to 3 medium tomatoes, thinly sliced
-3/4 cup chopped green bell pepper (optional)
Directions:
1.  Heat oven to 375 degrees.  Spray 13x9 inch pan with cooking spray.  In skillet, cook beef and chili powder over medium-high heat, stirring occasionally, until thoroughly cooked; drain.  Set aside.
2.  In small bowl, mix sour cream, mayonnaise, cheese and onion; set aside.
3.  In medium bowl, stir Bisquick mix and cold water with fork until soft dough forms.  Using fingers dipped in Bisquick mix, dress dough in bottom and 1/2" up sides of pan.  Layer beef, tomatoes and bell pepper on dough.  Spoon sour cream mixture over top; spread evenly over vegetables to cover.
4.  Bake uncovered 25 to 30 minutes or until edges of dough are light brown.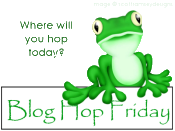 Foodie Friday
Friday Favorites