As a Texas girl, I LOVE me some enchiladas.  I am very particular about having them covered in sour cream sauce and nothing else.  But this recipe looked very appetizing, so we decided to give it a try.  DELICIOUS!  And, as always, quick and easy too.  I made this on a Sunday night for dinner on Monday and Tuesday and it was still good.  Nothing got soggy or gross while refrigerated.  Recipe from Campbell's.
Meal Planning: served with Pink Side Salad
Ingredients:
-1 can condensed cream of chicken soup
-1/2 cup sour cream
-1 cup salsa (I use Pace Thick & Chunky)
-2 tsp chili powder
-2 cups cooked shredded chicken
-1/2 cup shredded cheese
-6 flour tortillas (I was actually able to squeeze 7 in there)
-Chopped tomatoes and onion to top
Directions:
1.  Stir the soup, sour cream, salsa and chili powder in a medium bowl.
2.  Stir 1 cup of the salsa mixture, chicken and cheese in a large bowl.
3.  Divide chicken mixture among tortillas.  Roll up the tortillas and place seam side up in a 2 qt baking dish.  Pour the remaining sauce mixture over filled tortillas. 
Cover baking dish. (I forgot to cover with foil before placing in oven.  It kind of discolored the salsa mixture but still tasted good!)
4.  Bake at 350 degrees for 40 minutes or until enchiladas are hot and bubbling.  Top with tomato and onion.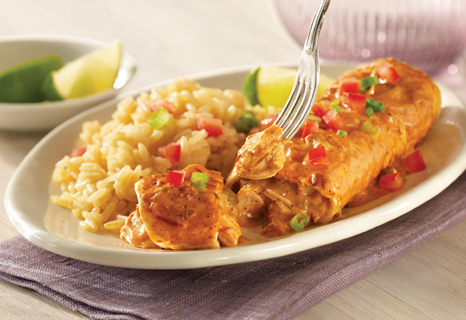 Okay, so this isn't my picture.  I borrowed it from the Campbell's website.  We didn't dig in until Monday night after a long day of work so taking a picture of what I was eating was the LAST thing on my mind.  But it seriously looked this good!