Even if you don't like fish, you're probably at least wondering what is up with the name of this dish.  After I graduated from college, I moved back to Dallas and within a month had to start my first job with the hotel company I eventually worked at for 8 years.  I had a little 600 square foot apartment just 2 miles from the hotel.  I loved it.  I loved being independent, making my own money, decorating my own place, etc.  I worked a lot of night shifts but the nights I was home always involved dinner cooked on my single serve George Foreman grill.  This is a dish I came up with back in those days.  As I started to date my husband and have him over for dinner, this became a favorite.  It still brings back so many memories when we eat it today.
What I love about this dish is that it is SO easy.  4 ingredients, 20 minutes, one dish, done!  I hope you enjoy it too.  This should feed about 3-4 people – 1 fish fillet per person, just add another box of pasta if needed.
Ingredients:
-4 Tilapia Filets
-1 box of Pasta Roni Shells & White Cheddar
-1 can of peas, drained
-Your choice of seasoning on the fish (we like the Greek Seasoning, but use your favorite)
Directions:
1.  Season fish and cook until flaky.  Use whatever method you like best – bake in the oven, grill outside, sauté in a pan, etc.  I still use the George Foreman to cook my fish, but now it's a lot bigger and fancier one!
2.  While fish is cooking, cook pasta to specifications on box.  Typically takes about 20 minutes by the time it finishes cooking and sits in the sauce to thicken.  Once thickened, add drained peas to pot and stir to heat through.
3.  On each plate, flake 1 tilapia filet into small pieces.  Divide pasta and pea mixture between plates and add on top of fish.  Mix together.
Here it is all mixed together and ready to enjoy!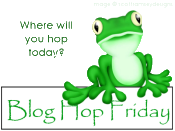 Foodie Friday
Friday Favorites