If you aren't drooling by now, you should immediately go to a doctor and have yourself checked out.  Yes, these are as yummy as they sound.  They are almost completely butter so they kind of fall apart and melt in your mouth.  Quick and easy too.  The recipe below only makes about 2 dozen small cookies so I would definitely double or triple the recipe.  These would make great Christmas cookies!  Recipe from www.smithfield.com.
Ingredients:
-1/2 cup sugar
-3/4 cup butter
-1 egg yolk
-1 tsp orange extract
-1.5 cups all purpose flour
-1/4 cup dark unsweetened cocoa
-Powdered sugar for dusting
Directions:
1.  Preheat oven to 375 degrees.  In the bowl of a stand up mixer (or hand mixer), combine the sugar, butter, egg yolk and orange extract.  Beat on medium speed until fluffy.  Gradually add flour and dark cocoa until well incorporated (about 2-3 minutes).
2.  Shape into 1" balls and place 1" apart on a greased cookie sheet.  Bake for 7-9 minutes or until set.  Allow to cool.  Roll in powdered sugar.
Okay, this isn't my picture.  And mine didn't really look like this!  But we were so excited to dig in and we ate them so fast that I didn't even get a picture of them.  (Picture courtesy of www.smithfield.com).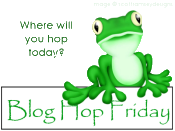 Foodie Friday
Friday Favorites