If you are like me, you LOVE lasagna but HATE the time and energy it takes to make it.  Sure, I'll do it every now and then but fast meals are the key these days.  Enter this little beauty of a recipe made with (of course) Pillsbury biscuits!  This is a great meal for kids too.  To make it even faster, just use a jarred pasta sauce and omit the first 5 ingredients.  The recipe has you cooking the biscuits on top of the sauce in the oven, but I find that the biscuits never cook all the way through so I modified it below.  Recipe from Pillsbury.
Ingredients:
-1 lb ground beef
-1 jar (28 oz) tomato pasta sauce
-1 tsp garlic powder
-1 tsp Italian seasoning
-1/2 tsp pepper
-1 can (12 oz) Pillsbury Golden Homestyle buttermilk biscuits (10 count)
-1 cup shredded mozzarella cheese (4 oz)
-1/2 cup cottage cheese
-1 Tbsp parsley flakes (dried)
-1/2 tsp dried minced onion
-1/2 tsp dried basil leaves
-2 Tbsp grated Parmesan cheese
Directions:
1.  Heat oven to 400 degrees.  In a skillet cook ground beef over medium-high heat until thoroughly cooked; drain.  Stir in pasta sauce, garlic powder, Italian seasoning and pepper.  Reduce heat; cover and simmer 10 minutes.
2.  Separate dough into 10 biscuits.  Press or roll each into 4" round.  In small bowl, mix mozzarella cheese, cottage cheese, parsley flakes, onion and basil until well blended.  Place about 2 Tbsp cheese mixture on each biscuit round.  Fold dough in half over filling; press edges with fork to seal.
3.  Lightly spray a cookie sheet with non-stick cooking spray.  Place each completed biscuit on the cookie sheet.  Sprinkle with parmesan cheese. 
4.  Bake 15 to 18 minutes or until biscuits are golden brown.  Serve biscuits on top of sauce.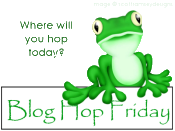 Foodie Friday
Friday Favorites