Just the picture of this alone in Family Circle magazine made me want to make it right then!  I've actually modified this recipe to make it much simpler.  They use frozen pizza dough (which takes longer to bake) so I used the Pillsbury pizza dough.  Also, the original recipe is for prosciutto and I used ham, which is easier to find but you can use either.  What really makes this a winner is roasting the tomatoes.  Make sure you use the basil also – I rarely buy fresh herbs but it really makes this delicious.  Enjoy!
Ingredients:
-1 can Pillsbury pizza dough
-2 Tbsp grated Parmesan cheese (can be omitted)
-1.5 pounds cherry tomatoes, halved (I used grape tomatoes and quartered them)
-1 large shallot, minced (I used 1/4 onion, minced)
-2 garlic cloves, minced
-1 Tbsp balsamic vinegar
-1/2 tsp salt
-1/4 tsp black pepper
-2 cups baby arugula (can be omitted)
-8 ounces mozzarella cheese, shredded
-3 ounces prosciutto, cut or torn lengthwise (I used shaved ham, cut into bite-sized pieces)
-2 Tbsp fresh basil, sliced into ribbons
Directions:
1.  Heat oven to 325.  Toss together tomatoes, shallot (onion), garlic, vinegar, salt and pepper in a medium-sized bowl.  Spread tomatoes in an even layer in a rimmed baking sheet (I used an 8x8 Pyrex) and roast at 325 for 20-30 minutes or until soft.  Remove from oven and gently stir in arugula (optional).  Heat oven to temperature on pizza dough package.
2.  Lightly spray cookie sheet or rimmed baking sheet with non-stick spray and spread out pizza dough per directions on the package.  Sprinkle with parmesan cheese.  Sprinkle 1 cup of the mozzarella over dough and scatter tomato mixture over top using a slotted spoon.  Distribute prosciutto (ham) over tomatoes.  Sprinkle remaining mozzarella over the top and bake per directions on pizza dough package.  Cool 5 minutes, then sprinkle with basil.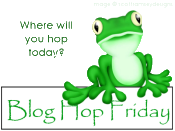 Foodie Friday
Friday Favorites