Hope all of my bloggy friends had a wonderful Thanksgiving!  We had a great time with my family (sadly, the hubs had to work a 12 hour shift – boo, hospitality industry).  We are still stuffed, the dog is tired and the little girl is beat from playing with her cousins.  So thankful for a loving God, salvation through Jesus Christ, an amazing husband, beautiful daughter and precious one on the way.  And you, of course!
Saw this recipe in our local paper's magazine and HAD to try it.  They advertise it as an appetizer, but if you make enough of them then you can definitely eat them for dinner.  Would also make a great appetizer for Thanksgiving or Christmas.  These were very tasty!  I only had 1 pie crust the first night and made them the way described below.  Instead of going to the store the second night, I used a roll of Pillsbury Crescents and just rolled up the filling and crimped the edges.  Just as yummy!  So use either one you have on hand.  I substituted a lot in this recipe because I wanted to use things in my pantry – those will be in parenthesis.  Recipe from Living Magazine or www.Norseland.com.
Ingredients:
-1 package refrigerated pie crust (if making this for two nights, use both rolls of dough, should yield about 20 empanadas)
-1 and 1/4 cups mashed potatoes (I used instant)
-1/2 tsp cumin powder
-1 4oz can diced green chilies, not drained (optional)
-1/2 tsp salt or to taste
-3 to 4 cloves garlic, chopped (I sprinkled in some garlic powder instead)
-2 cups finely chopped cooked green onions (I used 1 medium sized white onion and cooked in butter until caramelized)
-6 ounces Jarlsberg or Jarlsberg Lite cheese, diced (I used shredded Cheddar we had on hand)
Directions:
1.  Preheat oven to 400 degrees.  Mix all ingredients together in a bowl.  Set aside.
2.  Unroll dough and cut out 20 4" rounds.  Place 2 tablespoons filling in center of each round.  With wet fingers, moisten inside edges of dough and gently stretch over filling to make half moon shape.  Using fork tines, crimp edges to seal.
3.  Bake empanadas on parchment-lined cookie sheet about 14 to 16 minutes, or until light golden brown.  Serve warm.
This is a picture of the ones I made with the crescent rolls.  You can see that I put the filling in and rolled them up as usual, then tucked in the edges and crimped with a fork.  I wish I had gotten a picture of the ones with the pie crust because they were really pretty!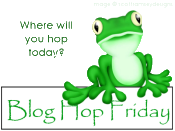 Foodie Friday
Friday Favorites