Most of the time, the only way I can get my husband to eat vegetables is if I put brown sugar on them.  I found this recipe and thought that it sounded excellent.  This would also be a great alternative to the traditional Sweet Potato Casserole over the holidays.  Recipe from Paula Deen for Smithfield (www.smithfield.com).
Ingredients:
-4 medium sweet potatoes, scrubbed
-1/2 cup heavy cream (I used whole milk on hand)
-1/2 cup butter (1 stick), softened
-1/2 tsp pumpkin pie spice
-1/4 tsp salt
-Freshly ground pepper, to taste
-1 cup miniature marshmallows
-1/2 cup brown sugar
-1/2 cup pecans, chopped (optional)
Directions:
1.  Preheat oven to 400 degrees.  Place potatoes on a baking sheet lined with parchment paper or foil.  Bake until fork tender, about 45 to 60 minutes.  Let rest 5 minutes.
2.  Handling potatoes with a pot holder, slice each in half lengthwise and carefully scoop out the flesh into the bowl of a food processor leaving 1/4" rim of flesh to support the potato skin.  To the food processor, add the heavy cream, butter, pumpkin pie spice, salt and pepper.  Process until potatoes are silky smooth.  **Sidenote: The recipe said that you could do this with a potato masher as well.  I did that and didn't like the lumpy texture I got.  Would definitely use the food processor next time.**
3.  Spray a baking sheet with nonstick cooking spray.  Place sweet potato shells on the baking sheet and add a few miniature marshmallows to each shell.  Spoon or pipe the puree mixture back into each shell.  Sprinkle brown sugar and pecans on top.  Bake at 400 degrees until potatoes are hot, about 10 to 12 minutes.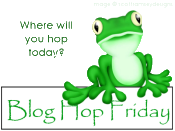 Foodie Friday
Friday Favorites